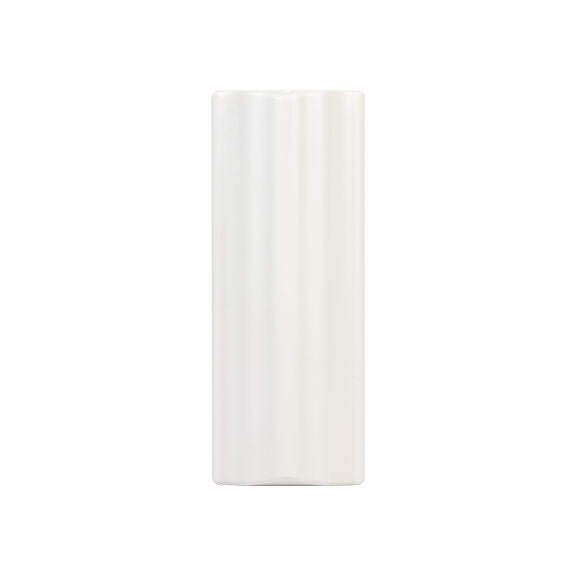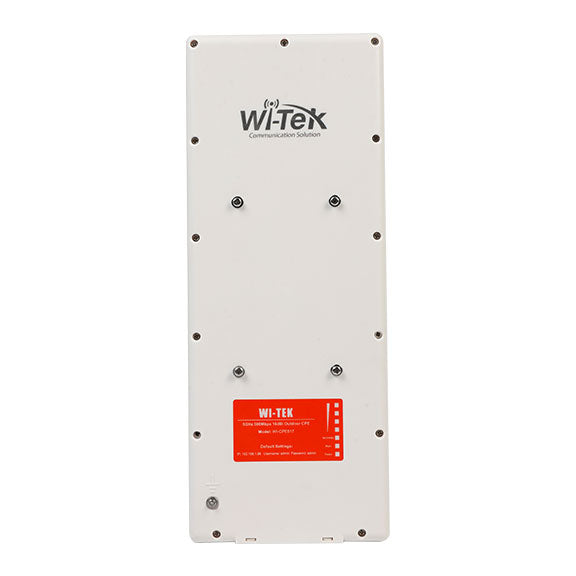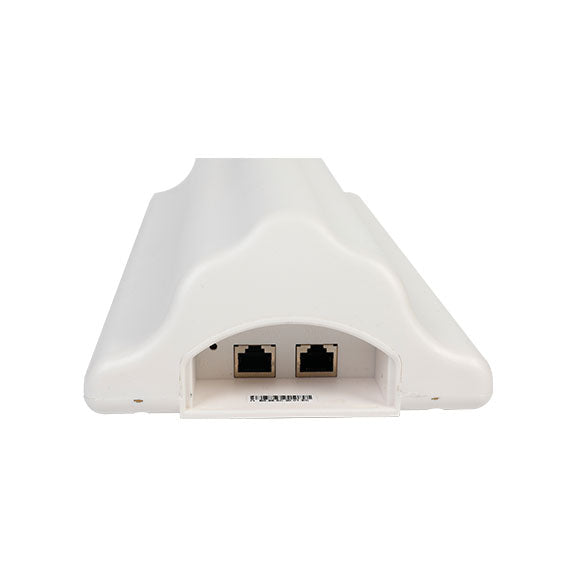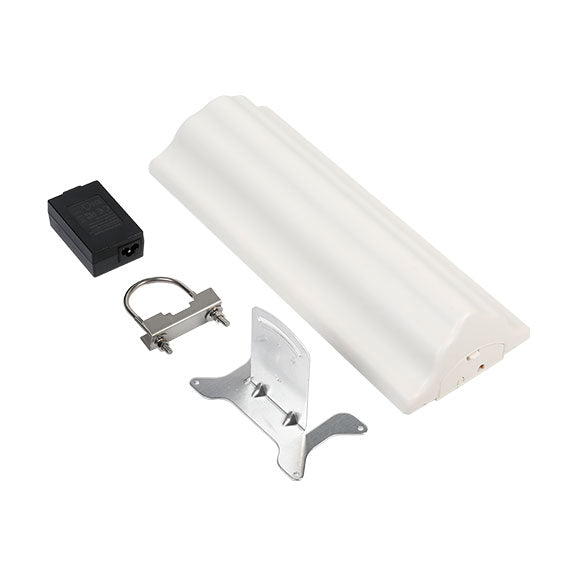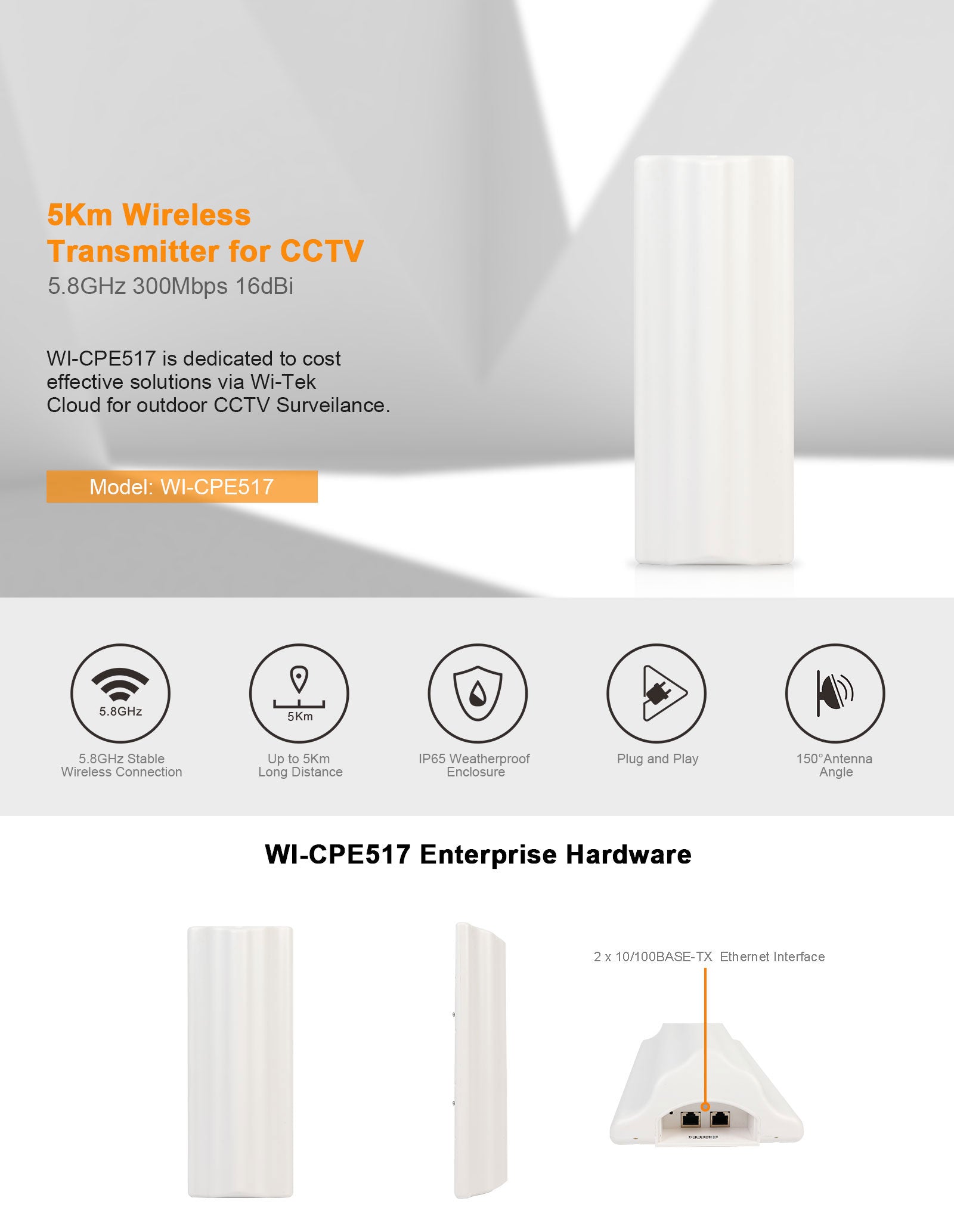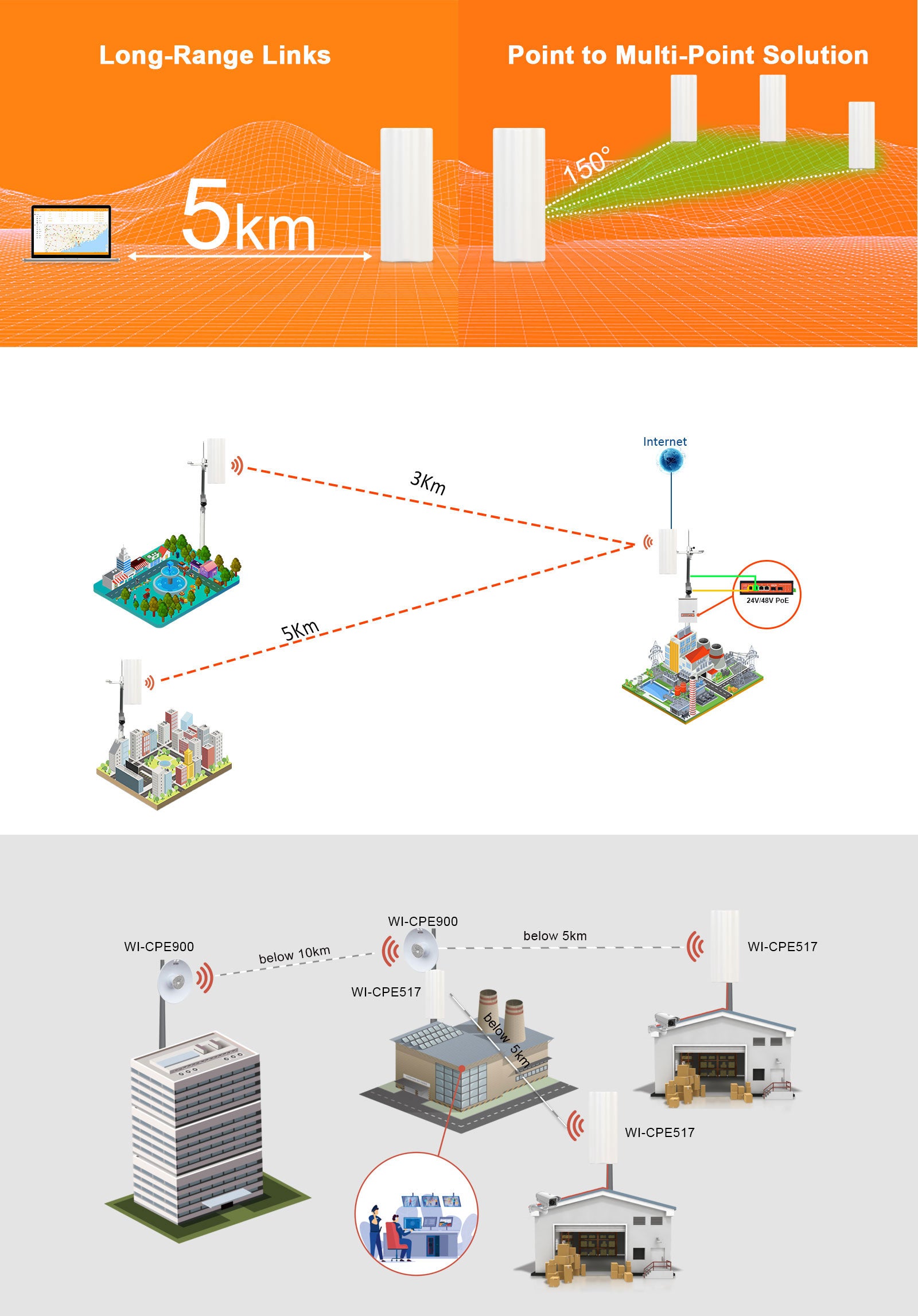 5.8Ghz Wireless Antenna | PTMP | Wide Angle
WiTek 5.8Ghz Wide Angle Point-To-Multi Point Antenna
Adjustable transmission power from 0 to 27dBm
Built-in 16dBi 2x2 dual-polarized directional MIMO antenna
Support open frequency from 4920-6100MHz
Long range wireless transmission up to 5km
Wireless B/G/N speed up to 300Mbps
Antenna Angle 150° degree
AP (access point)/Client operation modes
Centralized Management System–Wi-Tek Cloud Platform
24V Passive PoE Adapter supports up to 100 meter
Wireless Transmitter is equivalent to a network cable, transmitting network signals through a wireless pathway. It uses wireless communication technology to transmit network data over the air to carry out long-distance point-to-point or point to multi-point interconnections.
Wi-Tek Wireless Transmitter is specialized designed for rural Internet access, long distance wireless data transmission, wireless coverage extension and other industrial wireless solutions. It is widely used in various fields of communication
Easy to Setup
No need to login for setup. This amazing feature is activated by powering the antennas up and they simply auto-connect for PTP applications. The LED display shows the channel that the antennas are on, simply change both units to the same number and they will auto-connect again with full encryption
Cloud Management
Wi-Tek Cloud quick installation and configuration provide reliable performance, visual management and remote access to enable companies to focus on growing their business.

Environmental Adaptability
Wiring is a difficulty in some application scenarios, such as elevator. The network cables for CCTV cameras suffer daily wear with the rises and descends between floors. Wi-Tek's CCTV wireless transmitter can solve this difficulty and ensure the stable operation of monitoring system.
Cost Efficiency
Compared with wired CCTV network, it saves cables and converters, reduces the working time, breaks the 250meters limit of Ethernet cable. Wireless CCTV system is easy to maintain and add devices into existing system.
Professional Outdoor Design
Equipped with IP65 waterproof enclosure and high quality hardware design, it can work in various weather conditions, such as sunshine, rainfall or extremely low/high temperature environment.
DOCUMENTATION
Type
Description
Version
Link
Specification Sheet
Printable specification sheet for Wi-Tek product
V2.0
Download
HARDWARE FEATURES

WI-CPE517

Hardware Version

V1

Interface

2 10/100BASE-TXEthernet Interface

Power Supply

24V Passive PoE

PoE Adapter included

Power Consumption

8W

Package Dimension

500×155×95 mm

CPE Dimension

380×150×75 mm

Gross Weight

1.55kg

Net Weight

0.9kg

Antenna Type

H (Horizontal)

V (Vertical)

Built-in 16dBi Dual-pol

150°degree Sector Antenna

Beam Width: 150°(H-Pol) /15°(V-Pol)

Protection

6kV ESD Protection

10kV Lightning Protection

Enclosure

Outdoor UV Stabilized Plastic IP65 Waterproof Design

WIRELESS FEATURES

Wireless Standards

IEEE 802.11a/n

Wireless Mode

AP, Client

Wireless Speeds

Up to 300Mbps

Channel Width

20/40/80 MHz

Frequency

4920-6100MHz

Transmission Power

27dBm(500mW)

Recommend Distance

5km

SOFTWARE FEATURES

Security

WPA/WPA2, WPA-PSK/WPA2-PSK (AES/TKIP) Encryption, 64/128/152-bit WEP Encryption

Services

Web Server, SNMP, SSH Server, Telnet , Ping Watchdog, DHCP, NAT, Bridging, Routing

Utilities

Transmission Power ControlDynamic Frequency Selection (DFS) WDS Enable/Disable

Distance Adjustment

Distance/ACK Timeout Setting

WEB management

Yes

Cloud Management

No

System-level Optimizations

Optimized IGMP Snooping/Proxy for multicast applications, Hardware watchdog

OTHERS




Certification

CE

Package Contents

1×CPE

1×PoE Adapter

1×Pole Mounting Kit

1×Quick Installation Guide

Environment

Working Temp: -40 ~ 70°C

Storage Temp: -40 ~85°C

Working Humidity: 10%~95%

Non-condensing
Aiming Towards Excellence
Uniview is the pioneer and leader of IP video surveillance. Originally
introduced IP video surveillance system in China but, through consistent innovation,
Uniview now is the fourth largest manufacturer in the world. We continue to
reinvest into our technology, providing our customers with the best possible surveillance
equipment.  
With 16 years of technological exploration, Uniview continues to evolve, expanding
from video surveillance to AIoT. Our video surveillance product lines range includes
IP cameras, NVR, Encoders, Decoders, Storage Expansion, Client Software and Smart
Device Apps.  Our AIoT products range
from digital displays, intelligent access control, smart office, and smart
home.
Uniview provides professional solutions covering all industries, delivered
more than 7000 cases in smart city, transportation, industrial park,
commercial, bank, residential, school, healthcare etc.


Our Vision:

Unlimited New View
Our Mission:

The Uniview team considers themselves to be citizens of the world and endeavors
to build a safer world based on ethics and professionalism, always moving
forward with fortitude to achieve progress and innovation.
Value:

To continuously improve through innovation while remaining pragmatic. To be collaborative
with our partners to allow us to grow together.  
Social Responsibility:
Uniview strives to protect the environment through efficient manufacturing
that minimizes waste.  As we continue to
grow, we stay focus on being eco-friendly in both our production facilities and
our business practices. Our manufacturing facilities are certified ISO14000 and
RoHS.
Uniview also shares humanitarian beliefs and feels strongly that we should
give back to society. We have volunteer teams that has held several charitable
activities providing aid to people in need.
industry leading
warranty