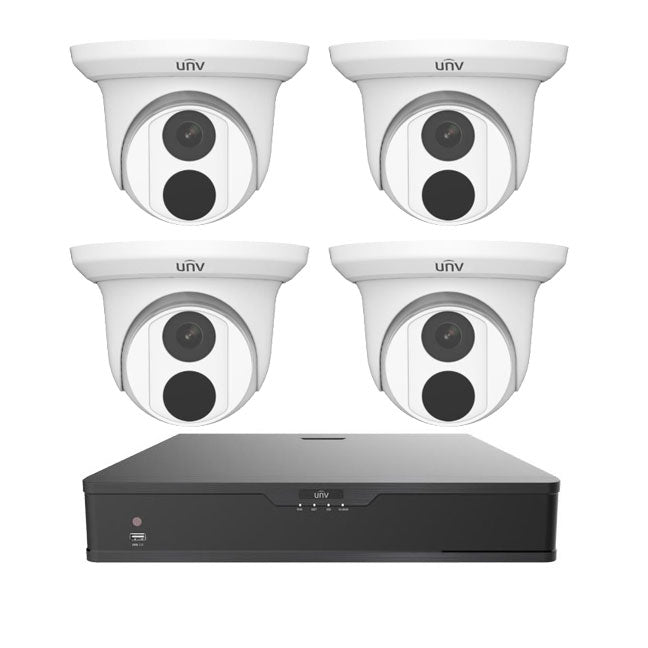 Turret IP Camera Kit | 4MP | 4 Channel | SKU: EK-S31P4T44T1
| | | | |
| --- | --- | --- | --- |
| | | | |
| 4x 4MP IP Cameras | 4-Channel NVR with PoE | 1TB Hard Drive | Ethernet Cables |
UNV Turret Camera Kit - 4MP (2560 x 1440 resolution) | 1TB Hard Drive | 4-Channel NVR

---
UNV's 4-channel camera kit has everything you need, except a monitor, to put a surveillance system in to your home or business.  This system incorporates 4MP high resolution cameras to give you a great image.  Just run the included ethernet cable to where you want the cameras located plug everything in and the NVR will automatically detect and configure the cameras.  To view the system remotely, you just need to install the EZView app, register for a free account, and scan a QR code from the NVR's network menu - no messing with your router or port forwarding required. 

Kit Contents:

(4) 4MP IP Camera - Turret Housing - Model: EC-T4F28M
(1) 4-Channel NVR with 4-Port PoE - Model: NVR301-04S3-P4
(1) Western Digital Purple Security-Rated 1TB Hard Drive
(4) 60 Feet Ethernet Cables
(1) 6 Foot Ethernet Cable
(1) 6 Foot HDMI Video Cable
(1) Power Supply
Key Features:

4MP max resolution (2560*1440), up to 20fps

Smart IR rated for up to 30M (98ft)

Ultra H.265 Compression

4 Channel NVR with built-in PoE for Plug and Play setup

Security rated hard drive designed for the demanding 24/7 use of CCTV

IP67 waterproof rated cameras for outdoor use

---
These camera support PoE which stands for power over ethernet.  This time saving technology provides all required communication and power needed for the camera over a single cable. 


This kit is quick and easy to install.  Just install the hard drive, run the camera cables, mount and connect the cameras then connect the cable to the NVR.  When you power up the NVR it will automatically connect the cameras and use its default record settings to get you going as quick as possible.


The wide angle lens used on this camera allows it to have an amazing 107.5° field of view, making it great for covering large areas


Using the EZView app will allow you to view your cameras, get alerts if the camera sees something, or playback video all on the go.

These cameras support cross line and intrusion detection of humans.  Setup this special feature to give you accurate alerts when someone is near your home or office.


If you run into any trouble you can always give us a call and we will do our best to assist you. 


You can also contact Uniview's support team

+1 (800) 860-7999
DOCUMENTATION
Type
Description
Version
Link
Spec Sheet
Printable specification sheet showing all technical features of the NVR
Download
User Manual
User manual for Uniview NVRs
v3.00
Download
User Manual
User manual for Uniview IP Camera
v3.00
Download
WINDOWS SOFTWARE
Type
Description
Version
Link
EZTools
EZTools 2.0 is a tool kit for device management, channel management, device upgrade and maintenance, recording time and capacity calculation.
R1122.2.6.1
Download
EZStation
VMS (Video Management Software) allows unified management of Uniview's IP Cameras & NVRs
B1130.3.12.1
Download
EZPlayer
EZPlayer is a media player tools for local recordings, supporting both .ts and .mp4 file types
B1111.1.6.0
Download
MAC SOFTWARE
Type
Description
Version
Link
EZStation
VMS (Video Management Software) allows unified management of Uniview's IP Cameras & NVRs
B1113.3.10.1
Download
EZStation BETA
VMS (Video Management Software) allows unified management of Uniview's IP Cameras & NVRs (Try this if you have problems with the official release above)
B1113.3.10.0.L02
Download
Aiming Towards Excellence
Uniview is the pioneer and leader of IP video surveillance. Originally
introduced IP video surveillance system in China but, through consistent innovation,
Uniview now is the fourth largest manufacturer in the world. We continue to
reinvest into our technology, providing our customers with the best possible surveillance
equipment.  
With 16 years of technological exploration, Uniview continues to evolve, expanding
from video surveillance to AIoT. Our video surveillance product lines range includes
IP cameras, NVR, Encoders, Decoders, Storage Expansion, Client Software and Smart
Device Apps.  Our AIoT products range
from digital displays, intelligent access control, smart office, and smart
home.
Uniview provides professional solutions covering all industries, delivered
more than 7000 cases in smart city, transportation, industrial park,
commercial, bank, residential, school, healthcare etc.


Our Vision:

Unlimited New View
Our Mission:

The Uniview team considers themselves to be citizens of the world and endeavors
to build a safer world based on ethics and professionalism, always moving
forward with fortitude to achieve progress and innovation.
Value:

To continuously improve through innovation while remaining pragmatic. To be collaborative
with our partners to allow us to grow together.  
Social Responsibility:
Uniview strives to protect the environment through efficient manufacturing
that minimizes waste.  As we continue to
grow, we stay focus on being eco-friendly in both our production facilities and
our business practices. Our manufacturing facilities are certified ISO14000 and
RoHS.
Uniview also shares humanitarian beliefs and feels strongly that we should
give back to society. We have volunteer teams that has held several charitable
activities providing aid to people in need.
industry leading
warranty