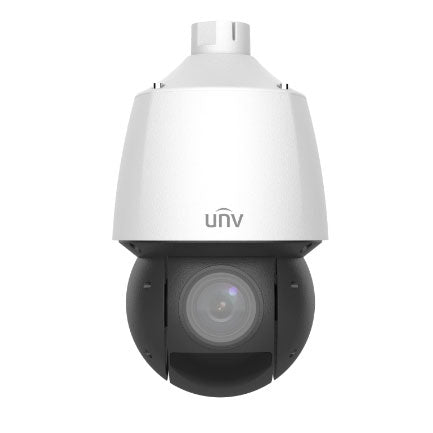 PTZ IP Camera | 4MP | 25X Zoom Lens | LightHunter | SKU: IPC6424SR-X25-VF
| | | | |
| --- | --- | --- | --- |
|   | | | |
| NDAA Compliant Camera | 25X Varifocal Motorized Lens | Ultra H.265/H.264 Video Compression | Supports Auto-Tracking, Human/Vehicle Recognition |


UNV NDAA Compliant PTZ - 4MP | Ultra H.265 | 25X Zoom Lens | Auto-Tracking | Smart Ai | LightHunter

---
PTZ or Pan Tilt Zoom IP cameras are designed to be able to change the direction or zoom of the camera remotely but, unless they are actively being monitored, they tend to just work the same a fixed camera.  This model PTZ fixes that problem through the use of its smart chipset that allows it to identify humans, motorcycles, and vehicles - if you couple that feature to this camera's auto-tracking then the camera will automatically follow any combination of those identified targets.  This drastically improves the usefulness of a PTZ because its like having an automated security guard on staff.  You can set the camera to automatically return to a preset location after it tracks something so that you always get your primary surveillance coverage when nothing is in the field of view. 

Features at a Glance:
Video, Power, and PTZ control all over a single Cat5e/6 cable

Intelligent Auto-Tracking or Pan/Pattern/Preset Functions

LightHunter Technology

25X Zoom Lens (4.8 ~ 120mm)

---
 

National Defense Authorization Act or NDAA was modified to restrict the "use" of certain brands, and their OEMs, when dealing with the federal government and went into full effect August 2020.  Use of restricted products affects government contractors even on their own security systems on their private property.   Recently, the FCC has followed suit and also banned those same manufacturers.  This product is made with 100% NDAA compliant parts.


PoE enabled camera to allow a single Cat5e/6 cable to supply power, video, rs-485 control, audio, and alarm.  Maximum power draw is 21 watts


Ultra H.265 technology is designed to use less hard drive space and bandwidth. Powered by U-code technology which was exclusively developed by Uniview to have excellent bitrate control and bandwidth reduction. It is not only a compression technology, but a cutting edge end-to-end solution.

Supports VCA and smart features such as line-crossing, intrusion detection, human/vehicle detection, and auto-tracking.


Supports pan speeds up to 0.1°/s ~ 200°/s


Pan range is 360° (endless)

Supports tilt speeds up to 0.1°/s ~ 120°/s

Preset speeds are faster (pan 240°/s, tilt 200°/s)

This model has a 25x zoom lens with auto-focusing


Lens is rated 4.8mm to 120mm resulting in a

field of view between 52.20°~2.74°

This allows great close-up video capture
Accessories:
| | | | |
| --- | --- | --- | --- |
| PTZ Wall Arm | PTZ Wall Arm, Extended Reach | PTZ Parapet Mount | PTZ Ceiling Mount Adapter |
| | | | |
DOCUMENTATION
Type
Description
Version
Link
Spec Sheet
Printable specification sheet showing all technical features of the camera
Download
User Manual
User manual for Uniview IP Cameras
v3.00
Download
Camera Install Guide
How to guide covering the physical installation of Uniview cameras
v1.00
Download
WINDOWS SOFTWARE
Type
Description
Version
Link
EZTools
EZTools 2.0 is a tool kit for device management, channel management, device upgrade and maintenance, recording time and capacity calculation.
R1122.2.6.1
Download
EZStation
VMS (Video Management Software) allows unified management of Uniview's IP Cameras & NVRs
B1130.3.12.1
Download
EZPlayer
EZPlayer is a media player tools for local recordings, supporting both .ts and .mp4 file types
B1111.1.6.0
Download
MAC SOFTWARE
Type
Description
Version
Link
EZStation
VMS (Video Management Software) allows unified management of Uniview's IP Cameras & NVRs
B1113.3.10.1
Download
EZStation BETA
VMS (Video Management Software) allows unified management of Uniview's IP Cameras & NVRs (Try this if you have problems with the official release above)
B1113.3.10.0.L02
Download
IPC6424SR-X25-VF
Camera
Sensor
1/2.8", 4.0 megapixel, progressive scan, CMOS
Min. Illumination
Colour: 0.003 Lux (F1.5, AGC ON)
0 Lux with IR
Day/Night
IR-cut filter with auto switch (ICR)
Shutter
Auto/Manual, 1 ~ 1/100000s
WDR
120dB
S/N
>56dB
Lens
Lens type
4.8 ~ 120mm, AF automatic focusing and motorized zoom lens
Digital Zoom
16
Optical Zoom
25
Iris
Auto; F1.5 ~ F3.8
Field of View (H)
52.20°~2.74°
Field of View (V)
30.81°~1.54°
Field of View (D)
64.20°~3.23°
DORI
DORI Distance
Lens (mm)
Detect (m)
Observe (m)
Recognize (m)
Identify (m)
4.8
119.3(391.2ft)
47.7(156.5ft)
23.9(78.2ft)
11.9(39.1ft)
120
2475.0(8120.1ft)
990.0(3248.0ft)
495.0(1624.0ft)
247.5(812.0ft)
Illuminator
IR Range
Up to 100m (328 ft) IR range
Wavelength
850nm
IR On/Off Control
Auto/Manual
Video
Video Compression
Ultra 265, H.265, H.264, MJPEG
Frame Rate
Main Stream: 4MP(2688*1520),Max 30fps;
Sub Stream: 2MP (1920*1080), Max 30fps;
Third Stream: D1 (720*576), Max 30fps;
Video Bit Rate
128 Kbps~16 Mbps
U-code
Support
ROI
Support
Video Stream
Triple streams
OSD
Up to 8 OSDs
Privacy Mask
24 areas, up to 4 areas per scene
Image
White Balance
Auto/Outdoor/Fine Tune/Sodium Lamp/Locked/Auto2
Digital Noise Reduction
2D/3D DNR
Smart IR
Support
Flip
Normal/Flip Vertical/Flip Horizontal/180°/90°Clockwise/90°Anti-clockwise
HLC
Support
BLC
Support
Defog
Digital Defog
Intelligent
Smart Intrusion Prevention
Support false alarm filtering: Line crossing detection, Intrusion detection, Enter Area detection, Leave Area detection
People Counting
Support people flow counting and crowd density monitoring
Events
Basic Detection
Motion detection, Audio detection, Tampering Alarm
Auto Tracking
Support
General Function
Watermark, IP Address Filtering, Alarm input, Alarm output, Access Policy, ARP Protection, RTSP Authentication,
User Authentication
Audio
Audio Compression
G.711U,G.711A
Audio Bitrate
64 Kbps
Two-way Audio
Support
Suppression
Support
Sampling Rate
8 kHz
Storage
Edge Storage
Micro SD, up to 256 GB
Network Storage
ANR,NAS(NFS)
Network
Protocols
IPv4, IGMP, ICMP, ARP, TCP, UDP, DHCP, PPPoE, RTP, RTSP, RTCP, DNS, DDNS, NTP, FTP, UPnP, HTTP, HTTPS, SMTP, 802.1x, SNMP, QoS, RTMP,SSL/TLS
Compatible Integration
ONVIF (Profile S, Profile G, Profile T), API,SDK
User/Host
Up to 32 users. 3 user levels: administrator, operator and common user
Security
Password protection, Strong password, HTTPS encryption, Export operation logs, Basic and digest authentication for RTSP, Digest authentication for HTTP, TLS 1.2, WSSE and digest authentication for ONVIF
Client
EZStation
EZLive
EZView
Web Browser
Plug-in required live view: IE 10 and above, Chrome 45 and above, Firefox 52 and above, Edge 79 and above
Pan & Tilt
Pan Range
360° (endless)
Pan Speed
0.1°/s ~ 200°/s
Preset speed: 240°/s
Tilt Range
–15° ~ 90° (auto reverse)
Tilt Speed
0.1°/s ~ 120°/s
Preset speed: 200°/s
Number of Presets
1024
Preset Patrol
16 patrols, up to 64 presets for each patrol
Route Patrol
16 patrols, up to 32 actions for each patrol
Recorded Patrol
16 patrols, up to 128 actions for each patrol
Patrol Stay Time
15s~1800s
Preset Image Freeze
Support
Home Position
Support
Interface
Audio I/O
1/1
Alarm I/O
2/1
Serial Port
1 RS485
Built-in Mic
N/A
Built-in Speaker
N/A
WIFI
N/A
Network
1 * RJ45 10M/100M Base-TX Ethernet
Video Output
1 BNC
Certification
EMC
CE-EMC (EN 55032: 2015+A1:2020,EN 61000-3-3: 2013+A1: 2019,EN IEC 61000-3-2: 2019+A1: 2021,EN 55035: 2017+A11:2020)
FCC (FCC CFR 47 part15 B, ANSI C63.4-2014)
Safety
CE LVD (EN 62368-1:2014+A11:2017)
CB (IEC 62368-1:2014)
UL (UL 62368-1, 2nd Ed., Issue Date: 2014-12-01)
Environment
CE-RoHS (2011/65/EU;(EU)2015/863)
Protection
IP67 (IEC 60529:1989+AMD1:1999+AMD2:2013)
IK10 (IEC 62262:2002)
General

Power

DC12V(±25%,3A), PoE+(IEEE 802.3at)
Power consumption: MAX 21W
Power Interface
Ø 5.5mm coaxial power plug
Dimensions (Ø x H)
Ø166 x 295mm (Ø6.5" x 11.6")
Weight
3.05kg(6.72lb)
Working Environment
-40℃~70℃(-40°F ~ 158°F),Humidity: ≤95% RH (non-condensing)
Storage Environment
-40℃~70℃(-40°F ~ 158°F),Humidity: ≤95% RH (non-condensing)
Surge Protection
6KV
Reset Button
Support
Aiming Towards Excellence
Uniview is the pioneer and leader of IP video surveillance. Originally
introduced IP video surveillance system in China but, through consistent innovation,
Uniview now is the fourth largest manufacturer in the world. We continue to
reinvest into our technology, providing our customers with the best possible surveillance
equipment.  
With 16 years of technological exploration, Uniview continues to evolve, expanding
from video surveillance to AIoT. Our video surveillance product lines range includes
IP cameras, NVR, Encoders, Decoders, Storage Expansion, Client Software and Smart
Device Apps.  Our AIoT products range
from digital displays, intelligent access control, smart office, and smart
home.
Uniview provides professional solutions covering all industries, delivered
more than 7000 cases in smart city, transportation, industrial park,
commercial, bank, residential, school, healthcare etc.


Our Vision:

Unlimited New View
Our Mission:

The Uniview team considers themselves to be citizens of the world and endeavors
to build a safer world based on ethics and professionalism, always moving
forward with fortitude to achieve progress and innovation.
Value:

To continuously improve through innovation while remaining pragmatic. To be collaborative
with our partners to allow us to grow together.  
Social Responsibility:
Uniview strives to protect the environment through efficient manufacturing
that minimizes waste.  As we continue to
grow, we stay focus on being eco-friendly in both our production facilities and
our business practices. Our manufacturing facilities are certified ISO14000 and
RoHS.
Uniview also shares humanitarian beliefs and feels strongly that we should
give back to society. We have volunteer teams that has held several charitable
activities providing aid to people in need.
industry leading
warranty