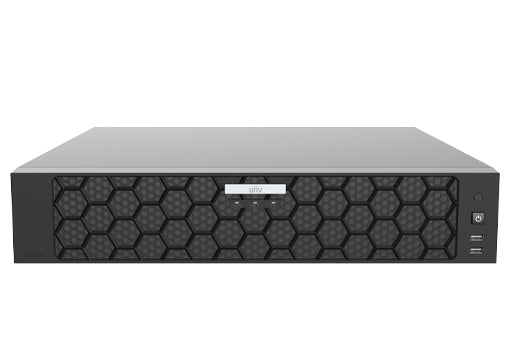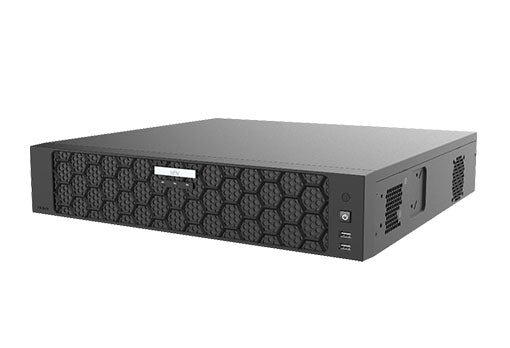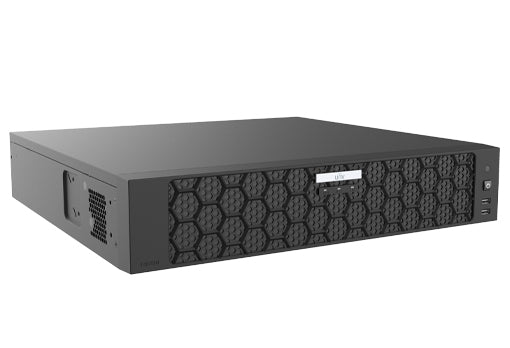 NVR Network Video Recorder | 64 Ch | 8x SATA | Dual LAN | SKU: NVR508-64B
| | | | |
| --- | --- | --- | --- |
|   | | | |
| NDAA Compliant NVR | Dual Gigabit Ethernet Ports | H.265/H.264 Video Compression | Supports LPR, VCA, & Smart Features |
UNV NDAA Compliant NVR - 64 Channels | Ultra H.265 Support | Dual LAN Inputs
---
This NVR offers 8-channel total of UMD (Ultra Motion Detection) & SIP (Smart Intrusion Protection).

UMD allows the NVR to only trigger recording when the camera detects a human, vehicle, or both - this is used to reduce the recording of standard motion events such as shadows, plants, animals, and so on. 
SIP recording is used for line crossing, intrusion boxes, and enter/exit area alerts.  The total number of enable channel has been increased on this model and can be used with any camera from Uniview.
It also supports dual lens camera and dual lens PTZ special forms for the camera layouts 
HDMI and VGA independent outputs
Playback decoding ability (4 x 8MP @ 30fps, 6 x 5MP @ 30fps, 8 x  4MP @ 30fps, 16 x 2MP @ 30fps)

High network incoming bandwidth support of 320Mbps

Supports panoramic dual lens, dual-lens PTZs, fisheye, thermal, and license plate cameras

16 Alarm Inputs / 4 Alarm Outputs
---
 

National Defense Authorization Act or NDAA was modified to restrict the "use" of certain brands, and their OEMs, when dealing with the federal government and went into full effect August 2020.  Use of restricted products affects government contractors even on their own security systems on their private property.   Recently, the FCC has followed suit and also banned those same manufacturers.  This product is made with 100% NDAA compliant parts.


This NVR has dual ethernet LAN ports, primarly LAN port 1 is the main network and LAN 2 is used with PoE switches to connect all of the cameras.  Uniview IP cameras are designed to be Plug-N-Play through the search function on this NVR.


Ultra H.265 technology is designed to use less hard drive space and bandwidth. Powered by U-code technology which was exclusively developed by Uniview to have excellent bitrate control and bandwidth reduction. It is not only a compression technology, but a cutting edge end-to-end solution.

Supports VCA and Smart features such as line-crossing, intrusion detection, human/vehicle detection, and ultra motion detection.  These modes are designed to eliminate false alerts to allow you to stay informed by true push-notifications.  Supports LPR cameras and fisheye dewarping.


Extreme decoding ability means being able to playback more channels at one time during surveillance footage review.


2 x 12MP@30, 4 x 4K@30, 6 x 5MP@30, 8 x 4MP@30, 10 x 3MP@30, 16 x 1080p@30, 32 x 960p@25, 36 x 720p@30, 64 x D1

Supports audio recording when connected to Uniview cameras with built-in microphones.  Uniview makes it easy to either enable or disable audio in the camera setup menu
DOCUMENTATION
Type
Description
Version
Link
Spec Sheet
Printable specification sheet showing all technical features of the NVR
Download
User Manual
User manual for Uniview NVRs
v3.00
Download
Quick Start Guide
NVR Quick Start Guide
v1.04
Download
WINDOWS SOFTWARE
Type
Description
Version
Link
EZTools
EZTools 2.0 is a tool kit for device management, channel management, device upgrade and maintenance, recording time and capacity calculation.
R1122.2.6.1
Download
EZStation
VMS (Video Management Software) allows unified management of Uniview's IP Cameras & NVRs
B1130.3.12.1
Download
EZPlayer
EZPlayer is a media player tools for local recordings, supporting both .ts and .mp4 file types
B1111.1.6.0
Download
MAC SOFTWARE
Type
Description
Version
Link
EZStation
VMS (Video Management Software) allows unified management of Uniview's IP Cameras & NVRs
B1113.3.10.1
Download
EZStation BETA
VMS (Video Management Software) allows unified management of Uniview's IP Cameras & NVRs (Try this if you have problems with the official release above)
B1113.3.10.0.L02
Download
Model
NVR508-64B
Video/Audio Input
IP Video Input
64-ch
Audio Input
1-ch, RCA
Network
Incoming bandwidth
320Mbps
Outgoing bandwidth
160Mbps
Remote Users
128
Protocols
TCP/IP, P2P, UPnP, NTP, DHCP, PPPoE, HTTP, HTTPS, DNS, DDNS, SNMP, SMTP
Browser
IE(IE10/11) for Windows
Firefox (version 52.0 and above) for Windows
Chrome(version 45 and above) for Windows
Edge(version 79 and above) for Windows
Video/Audio Output
HDMI/VGA Output
HDMI:
4K (3840x2160)@30, 1920x1080p@60, 1920x1080p@50, 1600x1200@60, 1280x1024@60, 1280x720@60, 1024x768@60
VGA:
1920x1080p@60, 1920x1080p@50, 1280x1024@60, 1600x1200@60, 1280x720@60, 1024x768@60
Recording Resolution
12MP/8MP/6MP/5MP/4MP/3MP/1080p/960p/720p/D1/2CIF/CIF
Audio Output
1-ch, RCA
Two-way Audio
1-ch, RCA(Using the audio input and output)
Audio Compression
G.711A, G.711U
Synchronous Playback
16-ch
Live View Display
Simultaneous Output:
VGA: 1/4/6/8/9/16/25/36/64
HDMI: 1/4/6/8/9/16/25/36/64
Independent Output:
VGA: 1/4/6/8/9/16/25/32
HDMI: 1/4/6/8/9/16/25/32
Corridor Mode Screen
3/4/5/7/9/10/12/16/32
Snapshot
FTP/Schedule/Event Snapshot
4-ch snapshot, up to D1 resolution
Decoding
Decoding Format
Ultra 265/H.265/H.264
Live View/Playback
12MP/8MP/6MP/5MP/4MP/3MP/1080p/960p/720p/D1/2CIF/CIF
Capability
Ultra 265/H.265: 2 x 12MP@30, 4 x 4K@30, 6 x 5MP@30, 8 x 4MP@30, 10 x 3MP@30, 16 x 1080p@30, 32 x 960p@25, 36 x 720p@30, 64 x D1
H.264: 2 x 12MP@30, 2 x 4K@30, 4 x 5MP@30, 6 x 4MP@30, 8 x 3MP@30, 14 x 1080p@30, 28 x 960p@25, 30 x 720p@30, 64 x D1
Hard Disk
SATA
8 SATA interfaces
Capacity
Up to 12TB for each disk
Disk Group
Support
Smart
VCA Detection by Camera
Intrusion Detection, Cross Line Detection, Enter Area, Leave Area, Defocus Detection, Scene Change Detection, Object Left Behind, Object Removed, Auto Tracking, UMD(Ultra Motion Detection)
VCA Search
Behavior Search, People Counting Report, Vehicle Search
People Counting
People Flow Counting, Crowd Density Monitoring
Smart Intrusion Prevention (SIP), Vehicle Detection, UMD by Camera
Total 8-ch
General Alarm
General Alarm
Motion, Tampering, Human Body Detection, Video Loss, Alarm Input, Audio Detection
Alert Alarm
IP Conflict, Network Disconnected, Disk Offline , Disk Abnormal, Illegal Access, Hard Disk Space Low, Hard Disk Full, Recording/Snapshot Abnormal
External Interface
Network Interface
2 RJ-45 10M/100M/1000M self-adaptive Ethernet Interface
USB Interface
Front: 2 x USB2.0, Rear panel: 1 x USB3.0
RS232
NA
RS485
1
Alarm In
16-ch
Alarm Out
4-ch
General
Power Supply
100~240V AC
Power Consumption: ≤ 32W (without HDD)
Working Environment
-10°C~+ 55°C (+14°F~+131°F), Humidity ≤ 90% RH (non-condensing)
Dimensions (W×D×H)
442mm × 426mm × 89mm (17.4" × 16.8" × 3.5")
Weight (without HDD)
≤ 4Kg (8.80lb)
Certification
Certification
CE, FCC, UL, RoHS, WEEE
CE
EN 55032, EN 61000-3-3, EN IEC 61000-3-2, EN 55035
FCC
Part15 Subpart B
Aiming Towards Excellence
Uniview is the pioneer and leader of IP video surveillance. Originally
introduced IP video surveillance system in China but, through consistent innovation,
Uniview now is the fourth largest manufacturer in the world. We continue to
reinvest into our technology, providing our customers with the best possible surveillance
equipment.  
With 16 years of technological exploration, Uniview continues to evolve, expanding
from video surveillance to AIoT. Our video surveillance product lines range includes
IP cameras, NVR, Encoders, Decoders, Storage Expansion, Client Software and Smart
Device Apps.  Our AIoT products range
from digital displays, intelligent access control, smart office, and smart
home.
Uniview provides professional solutions covering all industries, delivered
more than 7000 cases in smart city, transportation, industrial park,
commercial, bank, residential, school, healthcare etc.


Our Vision:

Unlimited New View
Our Mission:

The Uniview team considers themselves to be citizens of the world and endeavors
to build a safer world based on ethics and professionalism, always moving
forward with fortitude to achieve progress and innovation.
Value:

To continuously improve through innovation while remaining pragmatic. To be collaborative
with our partners to allow us to grow together.  
Social Responsibility:
Uniview strives to protect the environment through efficient manufacturing
that minimizes waste.  As we continue to
grow, we stay focus on being eco-friendly in both our production facilities and
our business practices. Our manufacturing facilities are certified ISO14000 and
RoHS.
Uniview also shares humanitarian beliefs and feels strongly that we should
give back to society. We have volunteer teams that has held several charitable
activities providing aid to people in need.
industry leading
warranty